Please call your local branch to reserve this title for your club.
Bag Contents: 10 copies
Summary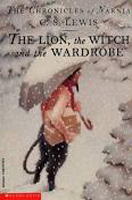 Four English school children find their way through the back of a wardrobe into the magic land of Narnia and assist Aslan, the golden lion, to triumph over the White Witch who has cursed the land with eternal winter.
Booklist Review
C. S. Lewis' beloved tale about four London children sent to a country estate during World War I, who slip through a closet into a fantasy world peopled by magical creatures and ruled over by a wicked queen, is pleasingly retold in this beautifully appointed adaptation. While the dialogue generally remains faithful to the books, some scenes are lengthened here for dramatic tension. Portrayals of the spunky children, the understanding professor, the faun, and the White Witch are memorable, far overshadowing some of the supporting cast, whose costumes somewhat distract from their characterizations. Nonetheless, good camera work, wonderful acting by the children, and flowing editing make this lengthy dramatization, sampled from a three-part series (including Prince Caspian/The Voyage of the Dawn Treader, and The Silver Chair), an involving version of a children's classic. Ages 8-13. ~--Nancy McCray
Author Notes
C. S. (Clive Staples) Lewis, "Jack" to his intimates, was born on November 29, 1898 in Belfast, Ireland. His mother died when he was 10 years old and his lawyer father allowed Lewis and his brother Warren extensive freedom. The pair were extremely close and they took full advantage of this freedom, learning on their own and frequently enjoying games of make-believe.
These early activities led to Lewis's lifelong attraction to fantasy and mythology, often reflected in his writing. He enjoyed writing about, and reading, literature of the past, publishing such works as the award-winning The Allegory of Love (1936), about the period of history known as the Middle Ages.
Although at one time Lewis considered himself an atheist, he soon became fascinated with religion. He is probably best known for his books for young adults, such as his Chronicles of Narnia series. This fantasy series, as well as such works as The Screwtape Letters (a collection of letters written by the devil), is typical of the author's interest in mixing religion and mythology, evident in both his fictional works and nonfiction articles.
Lewis served with the Somerset Light Infantry in World War I; for nearly 30 years he served as Fellow and tutor of Magdalen College at Oxford University. Later, he became Professor of Medieval and Renaissance English at Cambridge University.
C.S. Lewis married late in life, in 1957, and his wife, writer Joy Davidman, died of cancer in 1960. He remained at Cambridge until his death on November 22, 1963.