Please call your local branch to reserve this title for your club.
Bag Contents: 10 copies
Summary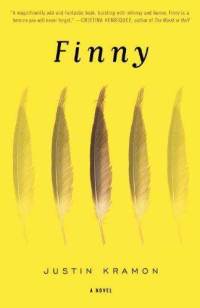 Justin Kramon's debut novel, Finny , is a sweeping, enchanting voyage, an insightful story about a young woman's complicated path to adulthood. We meet Finny Short as an observant, defiant fourteen-year-old who can't make sense of her family's unusual habits: Her mother offers guidance appropriate for a forty-year-old socialite; her father quotes Nietzsche over pancakes. Finny figures she's stuck with this lonely lot until she meets Earl Henckel, a boy who comes from an even stranger place than she does. Unhappy with Finny's budding romance with Earl, her parents ship her off to Thorndon boarding school. But mischief follows Finny as she befriends New York heiress Judith Turngate, a girl whose charm belies a disquieting reckless streak. Finny's relationships with Earl and Judith open her up to dizzying possibilities of love and loss and propel her into a remarkable adventure spanning twenty years and two continents. Justin Kramon has given us a wickedly funny odyssey with a moving and original love story at its core. Finny introduces us to an unforgettable heroine, a charmingly intricate world, and an uncommonly entertaining and gifted young novelist.
Booklist Review
She was christened Delphine, but strong-minded in this and other things as well she chose to call herself Finny, and this is the story of some 20 or so formative years of her life, from age 14 to (roughly) 34. That not all of these years are presented consecutively Kramon skips over high school and a cluster of years in Finny's twenties and early thirties lends a not unattractive episodic and even wistful air to this first novel of emotional development, disappointment, and, perhaps, fulfillment.
A clutch of eccentric characters evidences Kramon's fondness for Dickens, and the frequent allusions to Finny's future (of the years later she would realize sort) salute Dickens' sentimentality, as well. For the reader, this invites both a parallel nostalgia for that future and an air of the inevitable to Finny's sometimes unhappy experiences. This mood impacts Kramon's characters, too, whose actions sometimes seem more imposed than organic. Not a perfect book, therefore, but one that is suffused with tenderness and the promise of good things for the author's future.--Cart, Michael Copyright 2010 Booklist
Publisher's Weekly Review
In his impressive debut, Kramon takes on a number of familiar coming-of-age plots-smalltown fish-out-of-water adolescence, frustrated first love, boarding school friendships, big city escapes-and pulls it all off with flair and humor. A 14-year-old misfit in her Maryland hometown, Finny Short is sent to boarding school by her conservative parents soon after acting on a crush on mysterious boy-next-door Earl. At posh Thorndon, she finds an unlikely best friend in Judith, a beautiful heiress who thinks nothing of catching a ride in Peter Jennings's car; together, Earl and Judith prove unexpectedly influential throughout Finny's teenage years, as well as her passage through college.
Kramon is at his best sending up Finny's innocence by means of an endearing, Dickensian coterie of side characters like androgynous dorm matron Poplan and Earl's father, a narcoleptic pianist who falls asleep in the middle of performances. Combining snappy dialogue, frank attention to sex, and convincingly detailed characters-eccentric and sympathetic, but not sentimental-Kramon is clearly a find. (July) (c) Copyright PWxyz, LLC. All rights reserved