Please call your local branch to reserve this title for your club.
Bag Contents: 10 copies + 1 audiobook
Summary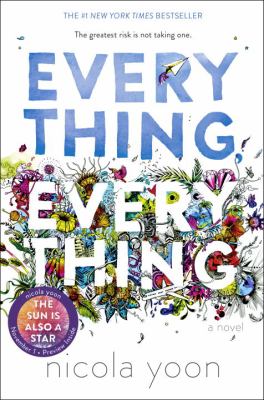 The story of a teenage girl who's literally allergic to the outside world. When a new family moves in next door, she begins a complicated romance that challenges everything she's ever known. The narrative unfolds via vignettes, diary entries, texts, charts, lists, illustrations, and more.
Booklist Review
Featuring illustrations by the author's husband, David Yoon, Nicola Yoon's debut tells the story of Maddy, a biracial teenage girl with severe combined immunodeficiency, or SCID, who's essentially allergic to the world. Cared for by her physician mother and Carla the nurse, Maddy is confined to her antiseptic white home, where she communicates with tutors and online friends through her computer. She's never had a companion her own age until the arrival of Olly, who moves into the house next door. With Carla as her ally, Maddy defies her mother, allowing Olly into her house and her heart, and putting her very life at risk. Romance readers will root for the precocious Maddy as she falls hard for the boy next door, while careful readers will entertain the significant possibility of a plot twist. Though the interspersed illustrations and other documentation don't significantly enhance the reading experience, they do quicken the pace in a book that teens in search of a swoonworthy read will devour.--Barnes, Jennifer Copyright 2015 Booklist
Publisher's Weekly Review
Madeline Whittier, a biracial 18-year-old, has severe combined immunodeficiency, a rare condition that renders her allergic to nearly everything and requires her to live inside a carefully sealed environment. Madeline's contact is limited to her physician mother and her full-time nurse, until handsome Olly moves in next door. Madeline falls for him from her window and begins disobeying the rules that keep her from the outside world. Despite the serious dangers posed by Madeline's medical condition and Olly's violently alcoholic father, Yoon's debut reads breezily. Many chapters consist of single, short paragraphs, as well as emails, chat exchanges, and Madeline's pithy book reviews (of Lord of the Flies, "Spoiler alert: Boys are savages"). Yoon's husband provides diagrams, cartoons, and other illustrations that reflect Madeleine's claustrophobia, whimsical longings, excitement over Olly, and sense of humor. The main conflict is resolved in a few brief pages and reflects an overall tendency for things to happen a bit too easily. Even so, this is an easy romance to get caught up in. Ages 12-up. Agent: Sara Shandler and Joelle Hobeika, Alloy Entertainment. (Sept.) © Copyright PWxyz, LLC. All rights reserved.
School Library Journal Review
Gr 10 Up-From the first page, Madeline Whittier is a sympathetic character who has had to watch the world from the inside of a bubble-literally. Her diagnosed condition of Severe Combined Immunodeficiency is a life sentence that limits her to a world of two people: her mother, who is a doctor, and her nurse. Everything changes when Olly and his family move into the house next door. Olly is the kind of inventive guy who figures out a way to communicate with Madeline, and over the course of the next few months Madeline becomes Maddy, a young woman who takes potentially deadly risks to protect Olly emotionally, if not physically. Maddy's and Olly's hastily planned trip to Maui and their tastefully described liaison while there suggests a mature teen audience, but readers of Cammie McGovern's Say What You Will (HarperCollins, 2014) and Wendy Mills's Positively Beautiful (Bloomsbury, 2015) will fall in love with this humorously engaging story of a girl who discovers life, love, and forgiveness in new places. VERDICT Everything, Everything is wonderful, wonderful.-Jodeana Kruse, R. A. Long High School, Longview, WA © Copyright 2015. Library Journals LLC, a wholly owned subsidiary of Media Source, Inc. No redistribution permitted.