Please call your local branch to reserve this title for your club.
Bag Contents: 10 copies
Summary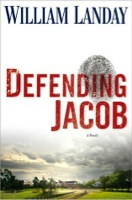 Andy Barber has been an assistant district attorney in his suburban Massachusetts county for more than twenty years. He is respected in his community, tenacious in the courtroom, and happy at home with his wife, Laurie, and son, Jacob. But when a shocking crime shatters their New England town, Andy is blindsided by what happens next: His fourteen-year-old son is charged with the murder of a fellow student. Every parental instinct Andy has rallies to protect his boy. Jacob insists that he is innocent, and Andy believes him. Andy must. He's his father. But as damning facts and shocking revelations surface, as a marriage threatens to crumble and the trial intensifies, as the crisis reveals how little a father knows about his son, Andy will face a trial of his own--between loyalty and justice, between truth and allegation, between a past he's tried to bury and a future he cannot conceive.
Award-winning author William Landay has written the consummate novel of an embattled family in crisis--a suspenseful, character-driven mystery that is also a spellbinding tale of guilt, betrayal, and the terrifying speed at which our lives can spin out of control.
Publisher's Weekly Review
Andy Barber, a respected First Assistant DA who lives in Newton, Mass., with his gentle wife, Laurie, and their 14-year-old son, Jacob, must face the unthinkable in Dagger Award-winner Landay's harrowing third suspense novel. When Ben Rifkin, Jacob's classmate, is found stabbed to death in the woods, Internet accusations and incontrovertible evidence point to big, handsome Jacob. Andy's prosecutorial gut insists a child molester is the real killer, but as Jacob's trial proceeds and Andy's marriage crumbles under the forced revelation of old secrets, horror builds on horror toward a breathtakingly brutal outcome.
Landay (The Strangler), a former DA, mixes gritty court reporting with Andy's painful confrontation with himself, forcing readers willy-nilly to realize the end is never the end when, as Landay claims, the line between truth and justice has become so indistinct as to appear imaginary. This searing narrative proves the ancient Greek tragedians were right: the worst punishment is not death but living with what you-knowingly or unknowingly-have done. Author tour. (Feb.) (c) Copyright PWxyz, LLC. All rights reserved.
Booklist Review
*Starred Review* A 14-year-old boy is stabbed to death in the park near his middle school in an upper-class Boston suburb, and Assistant District Attorney Andy Barber takes the case, despite the fact that his son, Jacob, was a classmate of the victim. But when the bloody fingerprint on the victim's clothes turns out to be Jacob's, Barber is off the case and out of his office, devoting himself solely to defending his son. Even Barber's never-before-disclosed heritage as the son and grandson of violent men who killed becomes potential courtroom fodder, raising the question of a murder gene. Within the structure of a grand jury hearing a year after the murder, Landay gradually increases apprehension. As if peeling the layers of an onion, he raises personal and painful ethical issues pertaining to a parent's responsibilities to a child, to a family, and to society at large.
Landay's two previous novels (Mission Flats, 2003; The Strangler, 2007) were award winners, but he reaches a new level of excellence in this riveting, knock-your-socks-off legal thriller. With its masterfully crafted characterizations and dialogue, emotional depth, and frightening implications, the novel rivals the best of Scott Turow and John Grisham. Don't miss it.--Leber, Michele Copyright 2010 Booklist
Library Journal Review
Andy Barber has been the top district attorney in his small, middle-class, Massachusetts town for 20 years. When a teenage boy is murdered, Andy focuses on a neighborhood pedophile as the chief suspect. There are concerns about a conflict of interest since Andy's teenage son, Jacob, attended the same school as the murdered boy and the investigation seems to be lagging. But after Jacob's best friend provides evidence against him, Jacob is arrested. Andy is taken off the case and suspended, but he is determined to prove his son's innocence.
VERDICT This brilliant novel by the author of The Strangler and the award-winning Mission Flats is equal parts legal thriller and dysfunctional family saga, culminating in a shocking ending. Skillful plotting and finely drawn characters result in a haunting story reminiscent of Scott Turow's Presumed Innocent. [See Prepub Alert, 8/8/11.]-Stacy Alesi, Palm Beach Cty. Lib. Syst., Boca Raton, FL (c) Copyright 2011. Library Journals LLC, a wholly owned subsidiary of Media Source, Inc. No redistribution permitted.