Please call your local branch to reserve this title for your club.
Bag Contents: 10 copies + 1 large print + 1 audiobook
Summary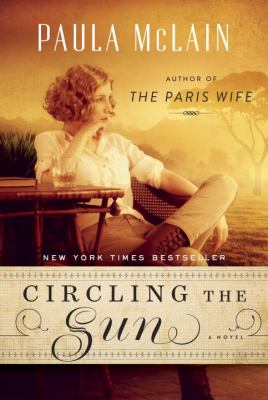 Paula McLain, author of the phenomenal bestseller The Paris Wife, now returns with her keenly anticipated new novel, transporting readers to colonial Kenya in the 1920s. Circling the Sun brings to life a fearless and captivating woman--Beryl Markham, a record-setting aviator caught up in a passionate love triangle with safari hunter Denys Finch Hatton and Karen Blixen, author of the classic memoir Out of Africa.
Brought to Kenya from England as a child and then abandoned by her mother, Beryl is raised by both her father and the native Kipsigis tribe who share his estate. Her unconventional upbringing transforms Beryl into a bold young woman with a fierce love of all things wild and an inherent understanding of nature's delicate balance. But even the wild child must grow up, and when everything Beryl knows and trusts dissolves, she is catapulted into a string of disastrous relationships. Beryl forges her own path as a horse trainer, and her uncommon style attracts the eye of the Happy Valley set, a decadent, bohemian community of European expats who also live and love by their own set of rules. But it's the ruggedly charismatic Denys Finch Hatton who ultimately helps Beryl navigate the uncharted territory of her own heart. The intensity of their love reveals Beryl's truest self and her fate: to fly. Set against the majestic landscape of early-twentieth-century Africa, McLain's powerful tale reveals the extraordinary adventures of a woman before her time, the exhilaration of freedom and its cost, and the tenacity of the human spirit.
Booklist Review
*Starred Review* McLain brought Hadley Richardson Hemingway to light with her best-selling novel, The Paris Wife (2011). Bravo to her for now fictionalizing the grandly adventurous, passionate, and scandalous life of British East African Beryl Markham, the first licensed woman horse trainer and breeder on the continent and an intrepid, record-setting pilot. Ernest Hemingway knew and admired Markham and raved about her breathtaking autobiography, West with the Night (1942), which McLain selectively mines. We meet Beryl as a child abandoned by her mother and allowed to run free as her father raises Thoroughbreds. Fearless, curious, and strong, Beryl learns a warrior's skills with Kibii, a Kipsigis boy, and dreams of a life larger than the confines of domesticity. She resolutely finds her way to daredevilry and terror, love and ostracism as she undertakes the sort of risky and exhilarating things men do even as she suffers through disastrous marriages, homelessness, and a complicated and wrenching entanglement with coffee grower and writer Karen Blixen (i.e., Isak Dinesen of Out of Africa fame) and Denys Fitch Hatton, the exciting and elusive man they both love. McLain sustains a momentum as swift and heart-pounding as one of Beryl's prize horses at a gallop as she focuses on the romance, glamour, and drama of Beryl's blazing life, creating a seductive work of popular historical fiction with sure-fire bio-pic potential.--Seaman, Donna Copyright 2015 Booklist
Publisher's Weekly Review
McLain's (The Paris Wife) latest showcases her immersive command of setting and character, fictionalizing the exploits of real-life aviator and author Beryl Markham in British Kenya in the early 20th century. Beryl marries young when her father's fortunes fall, but is determined to strike out independently as a horse trainer, even though there are no female horse trainers and she's only in her late teens. She succeeds, though her marriage suffers, and finds herself drawn into a love triangle with famed hunter Denys Finch Hatton and writer Karen Blixen. While her successes in the horse-racing business increase, the scandal around her makes her flee to England for a while. Upon her return to Kenya, her need for freedom has further personal consequences, but also leaves her as the first professional female pilot in the world at a time when flying was exceptionally dangerous, and a record-setter for crossing the Atlantic. McLain paints an intoxicatingly vivid portrait of colonial Kenya and its privileged inhabitants. Markham's true life was incredibly adventurous, and it's easy for readers to identify with this woman who refused to be pigeonholed by her gender. Readers will enjoy taking in the rich world McLain has created. (July) © Copyright PWxyz, LLC. All rights reserved.
Library Journal Review
Famed aviator and renowned racehorse trainer Beryl Markham is only one of the subjects of McLain's captivating new novel. The other is Kenya, the country that formed the complicated, independent woman whom Markham would become. Like her father who raised her, she falls under the spell of Kenya's lush valleys and distant mountains. Here she nurtures her affinity for animals in the wild and learns to breed and tame the most recalcitrant thoroughbreds. But when war and weather affect life at their farm in Ngoro, Beryl's father pressures the 16-year-old into marrying a much older, financially stable neighbor, setting in motion Markham's long history of fleeing the constraints of relationships that threaten her keen desire to live life on her own terms. Only on the back of a horse, at the wheel of a car, or, later, flying over her beloved -Africa does she feel fully alive and free. Drawing on Markham's own memoir, West with the Night, McLain vividly introduces this enigmatic woman to a new generation of readers. Verdict Fictional biography is a hot commodity right now (think Melanie Benjamin or Nancy Horan), and McLain's The Paris Wife was a book group darling. Expect nothing less for this intriguing window into the soul of a woman who refused to be tethered. [See Prepub Alert, 1/5/15.]-Sally -Bissell, Lee Cty. Lib. Syst., Fort Myers, FL © Copyright 2015. Library Journals LLC, a wholly owned subsidiary of Media Source, Inc. No redistribution permitted.