*Please call your local branch to reserve this title for your club.
Summary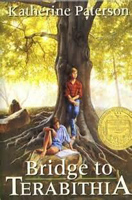 This Newbery Medal-winning novel by bestselling author Katherine Paterson is a modern classic of friendship and loss.
Jess Aarons has been practicing all summer so he can be the fastest runner in the fifth grade. And he almost is, until the new girl in school, Leslie Burke, outpaces him. The two become fast friends and spend most days in the woods behind Leslie's house, where they invent an enchanted land called Terabithia. One morning, Leslie goes to Terabithia without Jess and a tragedy occurs. It will take the love of his family and the strength that Leslie has given him for Jess to be able to deal with his grief.
Kirkus
/* Starred Review */ Paterson, who has already earned regard with her historical fiction set in Japan, proves to  be just as eloquent and assured when dealing with contemporary American children--and Americans of very different backgrounds at that. Jess, from an uneducated family in rural Virginia, has been practicing all summer to  become the fastest runner at school--a reputation more desirable than his present image as "that crazy little kid who draws all the time." But Jess is beaten in the first race of the fifth-grade year by a newcomer--who is also the first girl ever to  invade the boys' part of the playground. Soon Jess and Leslie, whose parents have moved from the suburbs because they're "reassessing their value structure," become close friends. On her lead they create Terabithia , a secret magic kingdom in the woods, and there in the castle stronghold she tells him wonderful stories. . . about a gloomy prince of Denmark, or a crazy sea captain bent on killing a whale. She lends him her Narnia books and lectures him on endangered predators. . . but he teaches her compassion for a mean older girl at school. Indeed Leslie has brought enchantment into his life.
Then one morning, with the creek they must swing over to  reach Terabithia  dangerously swollen by rain, and Jess torn between his fear of the maneuver and his reluctance to  admit it, he is saved by an invitation to  visit the National Gallery with his lovely music teacher. The day is perfect--but while he is gone Leslie is killed, swinging into Terabithla on their old frayed rope. Jess' feelings range from numb denial to  rage to  guilt to  desolation (at one point the thought occurs that "I am now the fastest runner in the fifth grade")--typical grief reactions, but newly wrenching as Jess is no representative bibliotherapeutic model. By the end, he is ready to  think about giving back to  the world something of what he had received from Leslie. You'll remember her too. (Kirkus Reviews, September 1, 1977)
School Library Journal Review
Jesse's colorless rural world expands when he becomes fast friends with Leslie, the new girl in school. But when Leslie drowns trying to reach their special hideaway, Terabithia, Jesse struggles to accept the loss of his friend. A Newbery Medal winner. (c) Copyright 2010. Library Journals LLC, a wholly owned subsidiary of Media Source, Inc. No redistribution permitted.