Please call your local branch to reserve this title for your club.
Bag Contents: 10 copies
Summary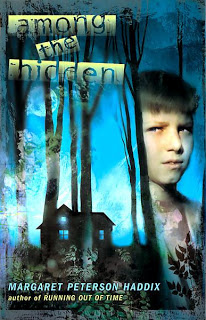 Luke has never been to school. He's never had a birthday party, or gone to a friend's house for an overnight. In fact, Luke has never had a friend. Luke is one of the shadow children, a third child forbidden by the Population Police. He's lived his entire life in hiding, and now, with a new housing development replacing the woods next to his family's farm, he is no longer even allowed to go outside. Then, one day Luke sees a girl's face in the window of a house where he knows two other children already live. Finally, he's met a shadow child like himself. Jen is willing to risk everything to come out of the shadows -- does Luke dare to become involved in her dangerous plan? Can he afford not to?
Publisher's Weekly Review
Haddix (Running Out of Time) chillingly imagines a dystopia in this futuristic novel. Born into a totalitarian state that brutally enforces a two-children-only policy, 12-year-old Luke Garner, an "illegal" third child, has spent his entire life hiding from anyone outside his immediate family. His troubles multiply when the government makes his dirt-poor parents sell the woods surrounding their farm in order to build a housing development for "Barons" (the privileged elite), and it therefore becomes too dangerous for Luke to go outside. Next, the Garners are hit with a crippling tax bill and ordered to sell their hogs, so Mom has to get a factory job.
Luke spends every day alone, hidden in his attic room, until he meets Jen, a "shadow child" secreted in the Baron house next door. She turns his whole world upside-down, introducing him to her secret Internet chat room and giving him literature analyzing the government's repressive policies. After Jen's foolhardy rally of shadow children ends in bloodshed, Luke is faced with a decision that will irrevocably determine his fate. The plot development is sometimes implausible and the characterizations are a bit brittle, but the unsettling, thought-provoking premise should suffice to keep readers hooked. Ages 8-12. (Sept.) (c) Copyright PWxyz, LLC. All rights reserved
School Library Journal Review
Gr 4-7-This first title in Margaret Peterson Haddix's Shadow Children series (S & S, 1998) introduces listeners to a time in the not-so-distant future when having more than two children is illegal. Luke Garner is a third child, a shadow child, whose existence is punishable by death. Luke has spent his whole life hiding until one day he catches a glimpse of another third child in a new house near his home. Luke discovers Jen, a bold girl who makes him dream of freedom. Jonathan Davis's narration of this futuristic thriller draws listeners in and makes the story come alive. School and public libraries will want to add this well-produced title to their audio collections.-Shauna Yusko, St. Monica School, Mercer Island, WA (c) Copyright 2010. Library Journals LLC, a wholly owned subsidiary of Media Source, Inc. No redistribution permitted.