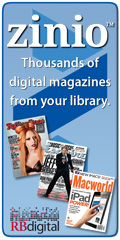 The Atlantic County Library System offers over 80 downloadable magazine titles through the Zinio for Libraries service. The eMagazines can be read on your computer and/or downloaded on a variety of mobile devices with internet capability for on-line and off-line viewing*. There are also special apps for Android, Blackberry Playbook, iPhone, iPod Touch, iPad, Nook HD/HD+1 and Kindle Fire.2
Once you have signed into Zinio for Libraries with your library card, you will need to create an account to access the library's eMagazine collection page and then a separate Zinio.com account to read and manage your content. You may use the same email and password for each.
Download as many FREE eMagazines as you want, read them on as many devices as you want and keep them as long as you want!
1 With the exception of the Nook HD/HD+, Barnes & Noble does not offer a Zinio app for it's Nook tablets and eReaders. For now, on these other Nook devices, eMagazines can only be read while online.
2 Please follow the instructions to download the Kindle Fire app directly from your Kindle Fire.