The countdown is on to the "All-American Eclipse."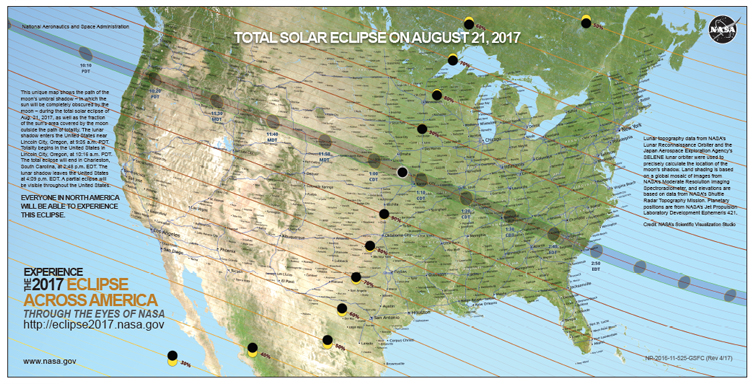 On Monday, August 21, 2017, a band of the United States, which stretches from Oregon to South Carolina, will be prime vantage for viewing a total eclipse of the sun. From these locations, the moon will completely block visibility of the sun for approximately 2 minutes.  Throughout the rest of the U.S., a partial eclipse will be observable, the percentage of which is determined by location.  Here in Atlantic County, we will witness a 76% blockage of the sun which will begin at 1:22 pm, reach maximum obscuration at 2:45 pm, and end at 4:03 pm. Click here for an interactive map of what to expect where and what time.
The next eclipse to go through the continental U.S. will not occur again until April 8, 2024. For more information about Eclipses, and this eclipse in particular, go to the NASA Eclipse 2017 site. Also, consider joining one our branch programs to learn about and celebrate this spectacular event with others in your community.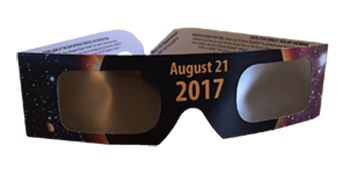 Please remember, looking directly at the sun can cause permanent eye damage*. This is true even during the phases of an eclipse. Sunglasses are only meant to reduce glare and should NOT be considered protection. The Atlantic County Library System has a limited number of Eclipse Safety Glasses (ISO 12312-2 certified) for distribution at some of our branches on the day of the eclipse (one per person, on a first come first serve basis). As the supply is very limited, please call your local branch for details about the glasses before you go.
*Protect your pets, as well, by keeping them indoors during the eclipse.