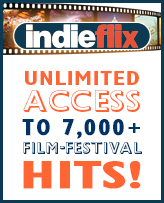 Enjoy thousands of documentaries, shorts, independent and foreign films including those featured in film festivals all around the globe.
All you need to watch is an Atlantic County Library System card and an Internet-connected device to stream them. No checkouts, returns, or waiting. Multiple users can watch the same film on different devices at the same time.
IndieFlix is available on all Internet-enabled computers, tablets including iPad, Kindle Fire/HD and Android, and smartphones through the web browser; no apps are required. Films are also available through the Apple TV browser or can be viewed on Roku and Xbox with available apps.
Getting started:
If you already have a Zinio account, then you are registered and you can use that same e-mail & password to log in to the RBdigital Gateway.

Once logged in, click the Indieflix link to go to the IndieFlix page and click "Browse Films."

If you don't already have a Zinio account:

Create a "New Account" on the RBdigital Gateway by going through our website.
On the IndieFlix page, you will need to create another login. For ease, you can use same email address that you did to register on the RBdigital Gateway in the previous step.

Once you're logged in to IndieFlix, you can search for films, or browse by genre, mood, length, and rating. Click on the movie to watch the trailer or full feature. You can also click on the + sign to add to your queue for later viewing.
*These films are not rated by the MPAA, so viewer discretion is advised.